Eric Mazur Wins 2013 HETL Lifetime Achievement Award
March 23, 2013
in
HETL News
HETL created the HETL Lifetime Achievement Award award to honor educators who have made significant, sustainable, and globally-impacting contributions to the scholarship and practice of teaching and learning in higher education. Professor Eric Mazur of Harvard University received the award for 2013.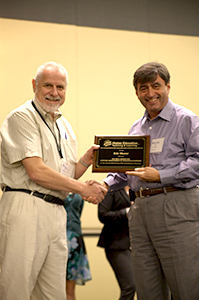 Professor Mazur is the Balkanski Professor of Physics and Applied Physics at Harvard University and Area Dean of Applied Physics. He supervises one of the largest research groups in the Physics Department at Harvard University. He is author or co-author of over 250 scientific publications and 12 patents. In selecting Professor Mazur as the first recipient of the HETL Lifetime Achievement Award in Teaching and Learning, the HETL Awards Committee noted Professor Mazur's significant contributions as a researcher in the fields of science, pedagogy, and learning as well as his contributions as a university instructor. Based on his groundbreaking book, Peer Instruction, which presents an innovative approach to teaching and learning, Professor Mazur's teaching method has been adopted across many disciplines throughout the world and has transformed physics teaching, in particular.
Professor Mazur is recognized internationally for his scientific contributions and his instructional leadership. A sample of his awards include:
2011 – Founded Learning Catalytics, a company that uses data analytics to improve learning in the classroom.
2010 – Elected Director at Large for the Optical Society of America.
2008 – Awarded the Esther Hoffman Beller Medal by the Optical Society of America.
2008 – Awarded the Robert A. Millikan Award from the American Association of Physics Teachers (AAPT) for notable and creative contributions to the teaching of physics.
2006 – Selected as one of 75 most outstanding American physicists by the American Association of Physics Teachers.
1999 – Award for excellence in educational research by the Council of Scientific Society Presidents
1989 – Elected Fellow of the American Physical Society.
1988 – Awarded the Presidential Young Investigator Award by the President of the United States.
Addition information about Professor Mazur
Twilight of the Lecture
A Conversation with Eric Mazur
Google Scholar Citations