Welcome
President's Welcome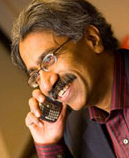 Welcome to the International Higher Education Teaching & Learning portal. As one of the largest international higher education e-communities, as at 2013, HETL has 68,700 newsletter subscribers; 31,500 LinkedIn Forum members; 2,000 Twitter followers; 1,700 Facebook members; and 370 Google+ followers. HETL membership represents every discipline, function and level within higher education from over 160 countries balanced across the six continents. In fact, HETL has experienced an unprecedented growth – with strong membership, excellent international conferences, outstanding publications, and strong global partnerships. It is an honour to serve the HETL community.
The success of a global network is not serendipitous or happenstance. I would like to thank the founding executive members for their leadership and vision in creating and developing a dynamic international body of educators.
The success and strength of an institution are dependent upon the active participation and meaningful involvement of its membership. Your contribution will further strengthen the cause of international higher education. Consider sharing your expertise at the upcoming 2014 International Conference to be held in Anchorage, Alaska. Connect with reputed scholars from around the world and explore common interests of the HETL community.
See you in Alaska,
John P. Anchan
University of Winnipeg
http://uwinnipeg.ca/~janchan
http://anchan.ca