IHR Journal Page
International HETL Review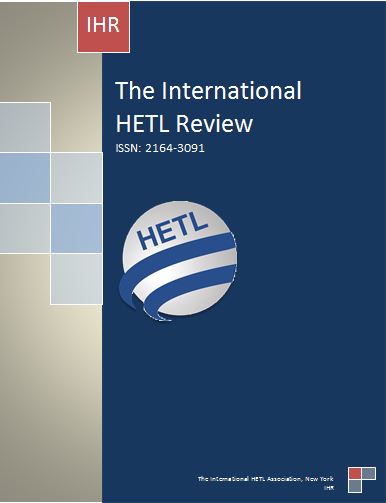 ISSN: 2164-3091
Get Involved
For the latest news, publication alerts and discussions, follow HETL on social media:
Coverage
The primary aims of the IHR are to, 1) to provide a forum for a diverse set of voices to share their expertise and research in the field of teaching and learning, 2) to create a rigorous, peer-reviewed process for the dissemination of scholarly knowledge on teaching and learning, and 3) to build a vibrant research community of scholars and educational thought leaders from all academic domains in higher education.
As part of our charter as a non-profit charitable educational association, IHR is provided free to the public as an open-access journal. IHR is international and interdisciplinary in scope. The coverage of the journal includes, but is not limited to:
all disciplines and subject areas covering higher education strategy, policy and management
all disciplines and subject areas covering higher education teaching, learning and assessment
all disciplines and subject areas covering higher education internationalization and technology
innovative reflections and methodologies on current practices and emerging trends
Topicality
Higher education around the world is undergoing seismic shifts in how the higher education ecosystem behaves and how the higher education landscape looks. Major structural changes are occurring that are fundamentally altering the relationship between societies and their higher education institutions, at the macro level, and between administrators, faculty and students, at the micro level. As societies evolve and become more globally interconnected, educational systems must adapt to reflect and respond to these changes. As such, the definition and purpose of education, learning, and scholarship has greatly expanded and changed over the past few decades. These changes require policy makers and higher education leaders to rethink their notions of higher education by defining appropriate measures of success that are germane to and align with the unique missions of institutions and the unique needs of the people (e.g., faculty, learners, citizens) they serve.
In this type of complex, diverse educational ecosystem, higher education serves multiple purposes (e.g., scholarly/academic, economic/professional, democratic/social, personal/humanistic) for multiple constituencies. The HETL Review provides a medium and a forum for scholars and practitioners to disseminate their research and to engage in a critical debate and dialogue around the issues most meaningful to advancing the scholarship and practice of higher education. To that end, the mission of the HETL Review is purposely broad and utilizes a mix of articles (e.g., academic articles, book reviews, technology reviews, interviews) to fulfill its mission. Thus, the HETL Review helps to bring into focus the many issues and themes and emerging trends that are relevant to teaching and learning in higher education today.
Key journal audiences
researchers, scholars, faculty, and practitioners in higher education
researchers, scholars, faculty, and practitioners in lifelong and lifewide education
management, administration, and governance leaders in higher education
student affairs and technology support staff in higher education
professors, instructors, mentors and doctoral students in higher education
educational policy makers and opinion leaders in national and international institutions